Are you thinking of taking a vacation on a dreamy seaside, silky warm sea, lush scenery, and endless sunshine in your next beach travel destination? Every beach destination offers its sultry attractions. Here are some of the great beach destinations for adventurers.
Praia da Marinha in Portugal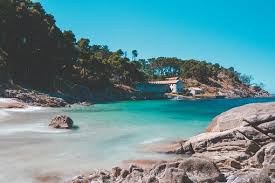 Visit Europe and enjoy one of the top beaches in Portugal. Praia da Marinha should have a spot in your must-go-to beach destinations. Located on the southernmost Algarve region in Portugal, this island is a popular destination for vacationers. Beautiful views of surrounding cliffs on one side and crystal clear blue waters on the other gives you no excuse not to see the place the soonest!
The island of Rangali in the Maldives
Rangali is one of the greatest places with a picture-perfect resort in a stunning island setting. It is the place for those seeking endless hours of sunshine, a family escape during the school holidays, or an excellent offer on your luxury getaway. Couples will love this intimate beach destination and romantic feel of the surrounding. It is a popular choice for beach lovers the world over.
Fiji
Fiji offers plenty of relaxing view, from clear blue water to lush forests to chains of volcanoes. No doubt, this South Pacific island nation is beautiful and offers perfect beaches with turquoise waters and stunning coral reefs. With stunning beaches that meet your dream vacation, exploring the island's other attractions will make your stay even more memorable.
Be enchanted with the beauty of natural waterfalls and explore underwater life while scuba diving or snorkelling. Truly, this will be one beach vacation you will never forget.